HOUSTON, Texas -
Houston and other parts of southeast Texas are experiencing "catastrophic, life-threatening flooding," federal officials said Sunday, as Harvey, now a slow-moving tropical storm, hovers over the region, dumping rainfall.
At least five people in the Houston area are dead, the Houston Chronicle reported. Many more have been stranded in homes and on rooftops, and entire stretches of freeway in the county – one of the most populous in the country – are submerged. Officials believed the first fatality to be a woman who was found dead near her car, in which she had likely been trapped during a flood, according to the Washington Post.
"This event is unprecedented," the National Weather Service said in a message posted to Twitter. It's "beyond anything experienced."
Some parts of Texas could receive up to 50 inches of rain in the coming days, an amount that would exceed state records. As images posted to social media showed roads inundated with water – submerging cars and covering street signs – officials in Houston and Galveston asked residents with high-water vehicles or boats to assist in rescue efforts.
Galveston County Judge Mark Henry said in a press conference Sunday afternoon that 25 to 35 private boat owners had responded to the call, and were helping transport people to safety.
In Houston, the 911 line received 56,000 calls between 10 p.m. Saturday and 1 p.m. Sunday, local authorities said, seven times the usual volume. Earlier Sunday, Houston Mayor Sylvester Turner tweeted that Houston 911 was being overwhelmed with calls but was still functional. "There are a number of stranded people on our streets calling 911 exhausting needed resources," he wrote. "You can help by staying off the streets."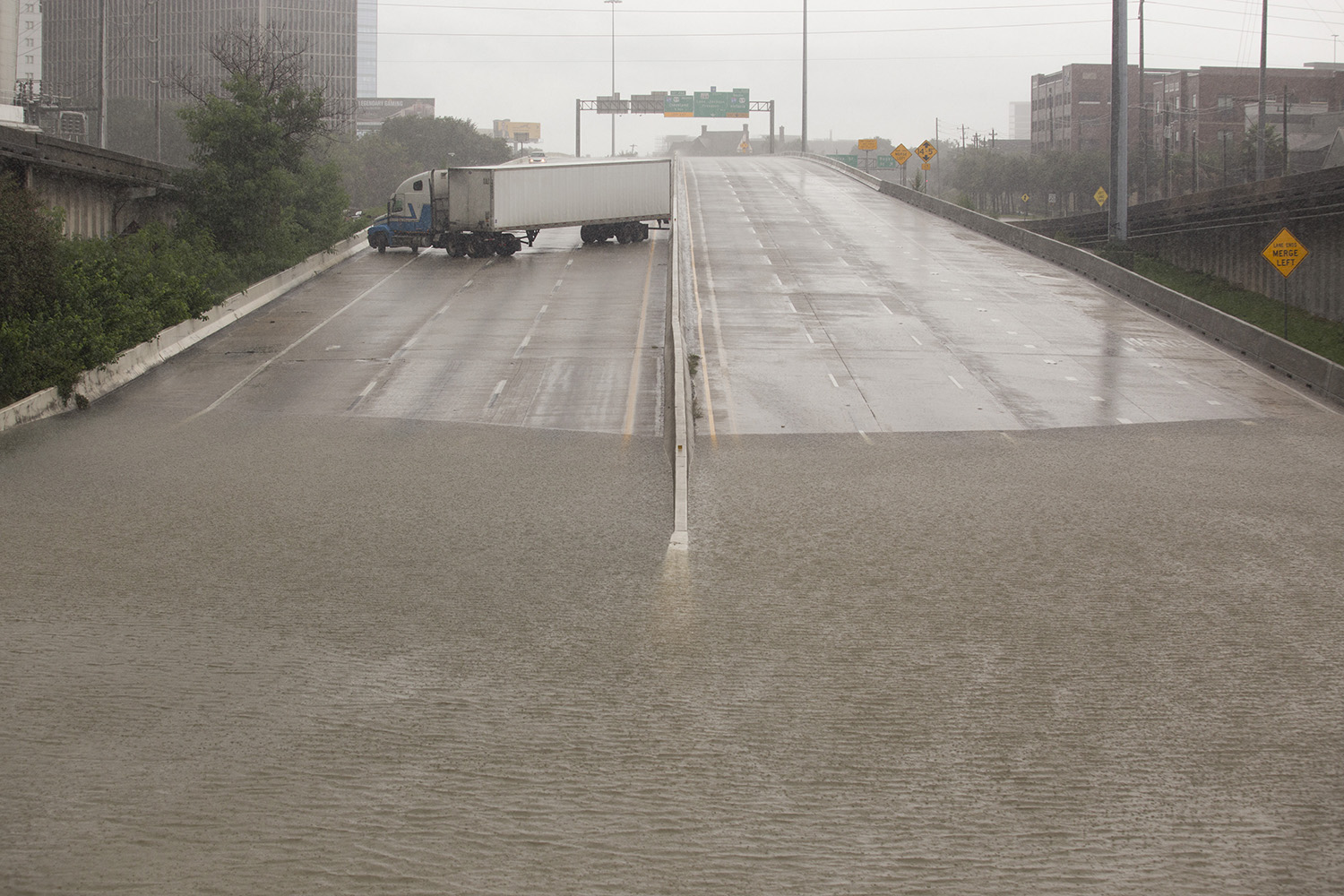 The city's official Twitter account also posted that 911 services were at capacity and to only call if in imminent danger.
"We're urging people to stay off the streets," Gary Norman, a spokesman for Houston's emergency management system, told the Post. "We're still very much in rescue mode.
Between Saturday and Sunday morning, Houston and Galveston received about two feet of measured rainfall, the National Weather Service said. The region is expected to receive up to two more feet of rainfall over the coming days.
"I know for a fact this is the worst flood Houston has ever experienced," Patrick Blood, a National Weather Service meteorologist, told the Chronicle.
"Worse than Allison," the 2001 tropical storm that sat over Houston, causing nearly two dozen deaths and extreme flooding, Blood said. "It's so widespread."
Harris County Judge Ed Emmett told the Chronicle 1,500 to 2,000 high-water rescues had been made by the county since Saturday night. And other county officials said 18 helicopters were rescuing those stranded on rooftops, after residents in flooding areas were urged to seek refuge there.
"Reports of people getting into attic to escape floodwater – do not do so unless you have an ax or means to break through onto your roof," Houston Police Chief Art Acevedo wrote on Twitter.
With emergency resources strapped, social media became a channel where pleas for rescue were issued for those trapped by flood waters that are expected to keep rising. The posts gave glimpses of the unfolding crisis and included exact addresses, names and pictures of southeast Texas' stranded residents.
One woman asked for help for a 70-year-old man trapped in a one-story house without an attic on S. Braeswood Boulevard in Houston. Another asked for help for a couple and their two cats in Dickinson, Texas.
"Please help if you can or get this information to authorities," claimed a post from twitter user Alicia Stepp. "The entire street of Colony Creek Drive needs rescue."
Yet another asked for help for 10 people, 3 dogs and two cats stuck on a roof in Dickinson. One post about a Houston family, which included a sick child, came with a picture of the people standing on their rain-soaked roof.
@houstonpolice this family is stranded on their roof, one of the babies are sick and he need medical attention.

11711 Woodshadow pic.twitter.com/cW9orjxLXd

— Gucci Mama (@sag5strong) August 27, 2017
Authorities asked residents to not make distress calls over social media. Still, CNN reported about two dozen nursing home residents were rescued after a viral picture showed a group of elderly people in a Dickinson facility sitting in waist-high water.
Henry, the Galveston County judge, said in his press conference that Dickinson was the hardest-hit part of the county, and estimated 800 to 1,200 people in the area had been rescued so far.
By Sunday afternoon, reports from Houston said Ben Taub Hospital had been evacuated, major oil refineries temporarily shut down, and airports closed. Local schools announced they would not be open this week.
Hundreds have streamed into the city's downtown convention center, which has been turned into a temporary shelter, the Associated Press reported.
In Corpus Christi, power outages from the storm caused 100,000 gallons of wastewater to be spilled into the La Volla Creek – though a news release from the city said the discharge of untreated sewage does not affect the the city's drinking water supply. Crews are monitoring and responding to the overflow, the release said.
Harvey made landfall late Friday as a Category 4 hurricane that left one person dead in Aransas County and wreaked havoc on buildings along the Texas coast. Over time, as the storm crept inland, its wind speeds diminished and meteorologists downgraded it to a tropical storm. Once inland, the storm slowed to a crawl and dropped hours of torrential rain across southeast Texas, which caused officials to warn of catastrophic flooding for days to come.
At a Sunday press conference, Turner defended his earlier advice encouraging Houstonians not to evacuate.
"You cannot put, in the city of Houston, 2.3 million people on the road," he said. "That is dangerous."
Added Turner: "If you think the situation right now is bad — you give an order to evacuate, you create a nightmare."
Jeff Lindner, a meterologist with the Harris County Flood Control District, said more than half of the county's 22 watersheds were experiencing "record flooding," some higher than what was seen during Tropical Storm Allison.
"I know you're scared; I know you're panicked," Lindner added. "I know you feel like in a desperation right now, but know that help is coming."
Later Sunday afternoon, Gov. Greg Abbott said now was not the time to second guess local officials' decisions on evacuations.
"We've moved beyond whether or not there should have been an evacuation or not," he said. "We are at the stage where we just need to respond to the emergencies and necessities that the people around Houston have."
Abbott said 500 officers from the Texas Department of Public Safety had been assigned to the Houston area, and another 3,000 state and national guard members were assisting with search-and-rescue missions in various areas affected by the storm.
In Washington D.C., at the FEMA command room near Capitol Hill, nearly 200 federal government workers and military members gathered to strategize the delivery of supplies to the hurricane-wracked region.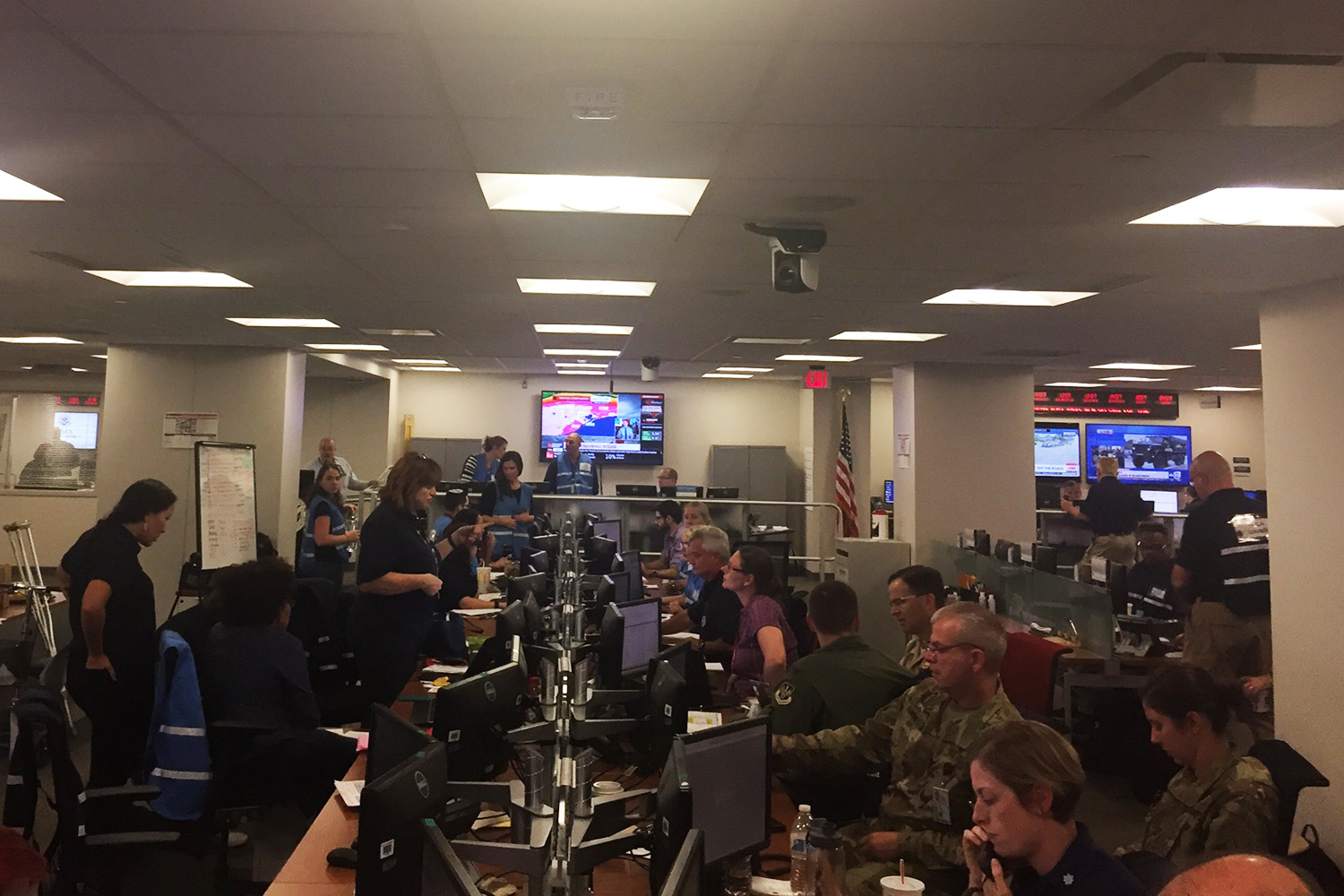 Televisions stations in the center were mostly tuned to the Weather Channel, but there were several big-screen feeds of local Houston affiliate stations' coverage of the damage and flooding.
Officials there emphasized that the breadth of its response remains a developing situation because the storm is not over, that FEMA is running back-end support and following the state government's lead, and that this is likely a years-long federal effort.
"The response is ongoing, said William Booher, the director of FEMA public affairs. "This is a dynamic situation … we are coordinating very closely with our state and local partners."
A White House spokeswoman told reporters on Sunday that the president would travel to Texas on Tuesday, after Donald Trump cited a need to stay out of the way as rescue efforts continue.
"I will be going to Texas as soon as that trip can be made without causing disruption. The focus must be life and safety," Trump tweeted Sunday morning.
Additional reporting by Abby Livingston and Brandon Formby.